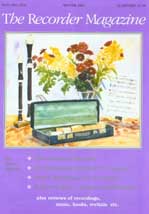 Winter 2001, Volume 21a Number 4
Further Modifications to a Plastic Bass

Denis Thomas describes his latest improvements to the instrument he last reported on in December 1998

Noise, Windways and Chamfers

Alec Loretto uses recent computerised findings to explore the behaviour of moist air travelling at speed in recorders

An Instrument for the 21st Century?
The second of Donald Bousted's articles tackles a diatonic system for composition, modulatory scales and the scale matrix.
The Unnatural Descant

Theo Wyatt explains why it's so hard to play descants quietly and pleasantly!
******

All issues of Recorder Magazine carry
reviews of recorder sheet music, CDs and books,

reviews of recent recitals and courses,

letters from readers,

numerous short recorder-related items in Footjoint, and

news from SRP and ERTA
[Ordering Information] [Recorder Magazine index] [Recorder MusicMail]
| | |
| --- | --- |
| | Last updated : 17.03.2003 |