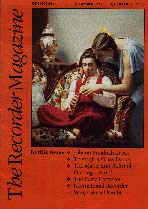 December 1993, Volume 13 Number 3
Johann Freidrich Fasch

Brian Clark looks at the life of this composer.

Through a Glass Darkly

Theo Wyatt on the problems of playing in bifocals.

The Marks and Rules for Gracing - Easy Baroque Ornamentation from English Sources - Part 2

Malcolm Davies continues his study from the previous issue.

The Early Flageolet

Charles Wells looks at the flageolet, a smaller version of the recorder.

International Recorder Synopsium Utrecht

Kathryn Bennett tells of her visit to the synopsium in Holland dealing with 17th Century recorder.
******

All issues of Recorder Magazine carry
reviews of recorder sheet music, CDs and books,

reviews of recent recitals and courses,

letters from readers,

numerous short recorder-related items in Footjoint, and

news from SRP and ERTA
[Ordering Information] [Recorder Magazine index] [Recorder MusicMail]