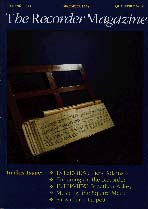 December 1994, Volume 14, Number 4
Interview with Piers Adams

The well-known performer talks to Andrew Mayes about the recorder, his imminent new CD and recorder repertoire.

Tonguing on the Recorder

Peter Bowman continues his series on recorder technique: a concise 'how-to' article with exercises.

A Visit to the Early Music Shop

Andrew Mayes visited the Early Music Shop while they were celebrating their 25th year in business. Jonathan Askey shares the 25 years and the role he has played.

Music by the Square Metre

The Performing Right Society: who are they and what do they do? Theo Wyatt tells us.

Sir Michael Tippett

As he celebrates his 90th birthday, Anne Mirtin supplies a brief biography of this remarkable English composer.

Article: Computer Software

Focus on a new IBM compatible, commercial program called "NoteWorthy", a music publishing program from Braeburn Software.

Article: Dear Doctor

A query on the origins of the terminology "descant, treble, tenor and bass" (plus soprano and alto) is answered by Edgar Hunt.
******

All issues of Recorder Magazine carry
reviews of recorder sheet music, CDs and books,

reviews of recent recitals and courses,

letters from readers,

numerous short recorder-related items in Footjoint, and

news from SRP and ERTA
[Ordering Information] [Recorder Magazine index] [Recorder MusicMail]