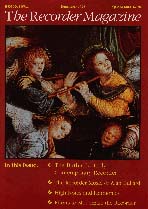 December 1995, Volume 15 Number 4
Recorder Rhythm

A "How-To" follow up article from Peter Bowman to "Tonguing on the Recorder" (14/4). Focus on expression of rhythm, teaching rhythm to young students and the role of articulation. Diagrams and examples.

The Birth of a Truly Contemporary [tenor] Recorder

Maarten Heider's tenor recorder has tuned harmonics enabling solid low notes and nice high notes: a 3 octave range.Van Hauwe says, '...he has created a professional, superbly working instrument.' By Peter Bowman.

The Recorder Music of Alan Bullard

John Turner with a catalogue, description and examples.

High Notes and Harmonics: a new Bell-key design?

Denis Thomas creates a new sliding bell key to create harmonics for the treble recorder, improving on the Dolmetsch version.

Efforts to Modernize the Recorder

Recorder maker Friedrich von Huene of the New England Early Music Shop on his efforts (and successes) in "modernizing" the recorder to avoid being over-powered by other instruments when playing chamber music. Photos.

An interview with Ross Winter

Ross Winter in discussion with Andrew Mayes

Respectable Groove: the making of an album

Barbara Law gives the inside story of the making of Respectable Groove's debut CD.
******

All issues of Recorder Magazine carry
reviews of recorder sheet music, CDs and books,

reviews of recent recitals and courses,

letters from readers,

numerous short recorder-related items in Footjoint, and

news from SRP and ERTA
[Ordering Information] [Recorder Magazine index] [Recorder MusicMail]