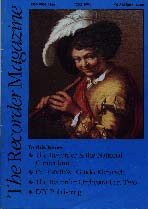 June 1994, Volume 14, Number 2
The Recorder and the National (UK) Curriculum

A discussion by Anne Martin

The Recorder Orchestra - Part Two

Dennis Bamforth discusses the concept and growth of the Recorder Orchestra in the past 20 years. This article deals with the music written and arranged for the orchestra in that time.

Body & Hand Positions when Playing the Recorder

A 'how-to' article with photos and instruction, from Peter Bowman.

Interview with Guido Klemisch

Guido Klemisch, recorder maker, in conversation with Malcolm Davies. Klemisch talks of his beginnings, making replica baroque & renaissance recorders.

Dear Doctor (recorder repair/problems)

An enquirr about recorders and their temperament, and an answer from recorder maker John Wiliman on the subject of recorder tuning and keyboard temperaments.
******

All issues of Recorder Magazine carry
reviews of recorder sheet music, CDs and books,

reviews of recent recitals and courses,

letters from readers,

numerous short recorder-related items in Footjoint, and

news from SRP and ERTA
[Ordering Information] [Recorder Magazine index] [Recorder MusicMail]