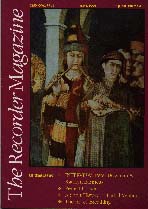 June 1995, Volume 15 Number 2
Interview with Peter Bowman & Kathryn Bennetts

The husband and wife team discuss a wide range of topics with Andrew Mayes, including influences, French baroque, ERTA, contemporary works, national musical style, and the recorder in schools.

Perfect Unison

Theo Wyatt talks of the joy of hearing the recorder in unison. This year was his first experience!

A Short History of Partial Venting

Anthony Rowland-Jones looks at the different techniques available and results achievable as shown in pictures and tutors from the 16th century on.

The Art of Breathing

Peter Bowman explains how breathing can be taught through the use of games and exercises so that development occurs naturally and unconsciously.

Swinging Dances: a rough guide to playing baroque - Part 2: A practical guide

Malcolm Davies continues his guide with examples.
******

All issues of Recorder Magazine carry
reviews of recorder sheet music, CDs and books,

reviews of recent recitals and courses,

letters from readers,

numerous short recorder-related items in Footjoint, and

news from SRP and ERTA
[Ordering Information] [Recorder Magazine index] [Recorder MusicMail]