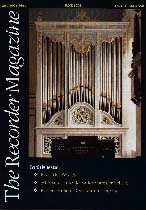 June 1998, Volume 18 Number 2
Recorder Woods

Alec Loretto looks at the influence that different types of woods have on the sounds produced by recorders.

50 Glorious Years

Brian Bonsor gives a brief history of the Recorder in Education Summer School

Robert Ehrlich - Our Man in Leipzig

Andrew Collis talks to Robert Ehrlich on the differences between being a professional recorder player in Britain and Germany.

Interview with Andrew Mayes

The tables are turned on Andrew Mayes as Annabel Knight and Louise Bradbury find out about the man at the top.
******

All issues of Recorder Magazine carry
reviews of recorder sheet music, CDs and books,

reviews of recent recitals and courses,

letters from readers,

numerous short recorder-related items in Footjoint, and

news from SRP and ERTA
[Ordering Information] [Recorder Magazine index] [Recorder MusicMail]