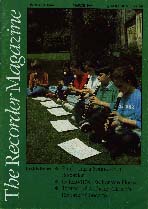 March 1994, Volume 14 Number 1
Interview with Walter van Hauwe

Lorraine Latin talks with Walter van Hauwe about the elements which he and the composers worked with to produce the Ijs Breker concert for the modern recorder.

Recorder or Wreck?

Malcolm Davies looks at the problems of buying a recorder.

Producing a Sound on the Recorder

In the first of a series of articles Peter Bowman examines a technique at the heart of playing the recorder.

An Innovative Concerto

Geoffrey Thomason assesses Anthony Gilbert's "Igorochki".

The Lockwood Great Bass Recorder

Denis Bloodworth looks at the new Lockwood recorder.
******

All issues of Recorder Magazine carry
reviews of recorder sheet music, CDs and books,

reviews of recent recitals and courses,

letters from readers,

numerous short recorder-related items in Footjoint, and

news from SRP and ERTA
[Ordering Information] [Recorder Magazine index] [Recorder MusicMail]