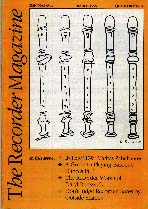 March 1995, Volume 15 Number 1
Interview with Markus Zahnhausen

Composer and recorder player Markus Zahnhausen in conversation with Andrew Mayes

Swinging Dances: a rough guide to playing baroque dances - Part 1:the tempo

Malcolm Davies looks at the problem of the appropriate tempo in baroque dances.

The Present State of the Recorder in England

Evelyn Nallen responds to Peter Holtslag's article in the September 1994 issue.

Leg Technique

Andrew Robinson discusses how leg position can alter the notes achieved.

Don't Judge a Book by its Cover and Don't Judge Recorder Bores by Outside Shapes!

Alec Loretto responds to Anthony Rowland-Jones (14/3) with a discussion of bore profile from medieval through to Ganassi. With diagrams.

The Recorder Works of Daryl Runswick

Robert Highcock and Peter Robertson discuss the late composer's life and works, with a full listing of the Daryl Runswick Collection.
******

All issues of Recorder Magazine carry
reviews of recorder sheet music, CDs and books,

reviews of recent recitals and courses,

letters from readers,

numerous short recorder-related items in Footjoint, and

news from SRP and ERTA
[Ordering Information][Recorder Magazine index] [Recorder MusicMail]