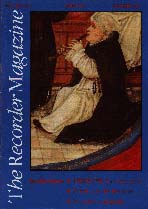 March 1996, Volume 16, Number 1
Interview with [recorder maker] Tim Cranmore

Tim Cranmore talks to Andrew Mayes about how he got started and his views on recorder making and improvements.

Purcell and the Recorder

An in-depth analysis by Alan Davis of Purcell's work from the amorous to the supernatural. Sample bars and extensive listing.

Recorders and Reeds @ 4 foot & 8 foot Pitch

Daphne Medley gives us a scientific understanding of sound waves and pitch in various wind instruments, with graphs.
******

All issues of Recorder Magazine carry
reviews of recorder sheet music, CDs and books,

reviews of recent recitals and courses,

letters from readers,

numerous short recorder-related items in Footjoint, and

news from SRP and ERTA
[Ordering Information] [Recorder Magazine index] [Recorder MusicMail]