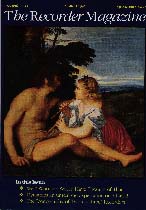 March 1997, Volume 17, Number 1
Thoughts on Recorder Patents ("Well! Whoever Would Have Thought of that?")

Alec Loretto and European Patent Attorney Paul Madgwick on international recorder patents, discussing in particular Dolmetsch's Bell Key and Echo Key, Moeck's absorbent stable windways & blocks, Paetzold's four-sided recorder and Strathman's Tilting Windway.

Test Pad: Dynamics, an unrealistic expectation ... Part 2

In part 2 of this series Peter Bowman discusses vibrato and alternate fingerings to achieve varied effects, and gives a brief overview of dynamics and expressions used from the Baroque period to the 20th century.

The Iconography of Two or Three Recorders, Part 1

Anthony Rowland-Jones discusses recorder symbolism in 15th-17th-century Italian and Low Country paintings ("Held Recorders - Cossa and Titian"
******

All issues of Recorder Magazine carry
reviews of recorder sheet music, CDs and books,

reviews of recent recitals and courses,

letters from readers,

numerous short recorder-related items in Footjoint, and

news from SRP and ERTA
[Ordering Information] [Recorder Magazine index] [Recorder MusicMail]