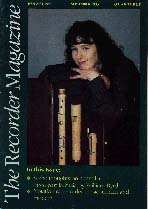 September 1993, Volume 13 Number 2
Some Easy Christmas Fare

Paul Clark looks at the world of "but that's not how the tune goes" and gives us a lesson in variants (and deviant arrangers)!

Boston Early Music Festival and Exhibition, 15-20 June

Edgar Hunt describes his visit to the seventh of the biennial Early Music Festivals.

Some thoughts on the notation of music for recorders

Edgar Hunt looks at trends in musical notation through the years

Marks and Rules for Gracing - Easy Baroque Ornamentation from English Sources - Part 1

Malcolm Davies writes on the first of two important English sources for ornamentation. Examples included.

Palladian Ensemble:"Grounds for appeal"

Andrew Mayes talks to the Palladian Ensemble about their music making.

The Recorder Orchestra - Part 1 (the History)

Dennis Bamforth reviews his time in the Recorder Orchestra, along with its general history.

William Byrd, For the 450th Anniversary of his birth

Anthony Rowland-Jones on a familiar three part consort.
******

All issues of Recorder Magazine carry
reviews of recorder sheet music, CDs and books,

reviews of recent recitals and courses,

letters from readers,

numerous short recorder-related items in Footjoint, and

news from SRP and ERTA
[Ordering Information] [Recorder Magazine index] [Recorder MusicMail]