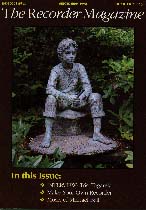 September 1996, Volume 16, Number 3
The Recorder Music of Michael Ball

John Turner discusses his work, with catalogue and examples.

Test Pad: A Series Exploring the Examination Syllabuses

Peter Bowman deals with the early grades and tutorials.

Making Your Own Recorder in C at a=44OHz

A detailed 'How-To' article with diagrams written by New Zealand recorder maker Alec Loretto. With this, you can construct your own medieval recorder in C.

Interview with The Trio Tagarela

Christopher Ball interviews the talented young recorder players.

REVIEW: Musical Software

Roy Brewer offers his personal assessment of NoteWorthy. A short, non-technical explanation of how this program acquitted itself. (IBM compatible PCs: DOS & Windows).
******

All issues of Recorder Magazine carry
reviews of recorder sheet music, CDs and books,

reviews of recent recitals and courses,

letters from readers,

numerous short recorder-related items in Footjoint, and

news from SRP and ERTA
[Ordering Information][Recorder Magazine index] [Recorder MusicMail]