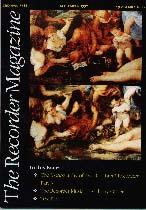 September 1997, Volume 17 Number 3
The Iconography of Two (or three) recorders, Part 3

Anthony Rowland continues his series on recorder symbolism in some 15th-17th century paintings from Italy and the Low Countries ("Discarded Recorders - Titian, Rubens, Veronese and Raphael").

The Recorder Music of Anthony Gilbert

John Turner with a catalogue and description of Anthony Gilbert's works for recorder.

Test pad Part 2 - Recorder Grades 6-8

Peter Bowman continues his series on the use of the music of Jacob van Eyck as technical exercises, with exercises.
******

All issues of Recorder Magazine carry
reviews of recorder sheet music, CDs and books,

reviews of recent recitals and courses,

letters from readers,

numerous short recorder-related items in Footjoint, and

news from SRP and ERTA
[Ordering Information] [Recorder Magazine index] [Recorder MusicMail]