News from Recorder MusicMail, 2022

The summer issue of Recorder Magazine ranges widely, from Ukrainian music to the role of recorder in education, overcoming disabilities in playing and on-going awards and recordings. The late composer and conductor Christopher Ball is remembered. The Centrespread Composer is James H Young. Click here for the contents and here for a list of music reviewed in this issue.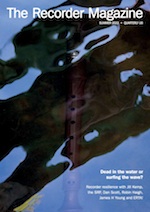 Scroll down for new music from Peacock Press, including Eric Haas's highly-praised collections of music from eight centuries for
Descant recorder,
Treble recorder,
Bass recorder
and now


***

Tenor Recorder

***



"It is wonderful to have such a wide-ranging collection, ready on my music stand. Highly recommended and excellent value."
** UPDATE **


Hugh Gorton's series of Celtic Airs and Dances for C instruments. -
1. Reels; 2. Jigs; 3. Hornpipes/Clog Dances;

and now




4. Strathspeys, Highland Airs, Polkas
All recorder pieces can be purchased from the Recordermail site.
*****************
JACKS, PIPES & HAMMERS
for all your Early Music needs! - click here: https://www.jackspipesandhammers.co.uk
MAY HILL EDITIONS
Peacock Press now publish under licence and supply all May Hill titles.
Click here to read Ann and Steve Marshall talking about their decision.
GREEN MAN PRESS
On Cedric Lee's retirement from publishing, Peacock Press have taken over Green Man Press. Cedric is to continue as the Editor in Chief for the series and should be contacted on editorial matters. Otherwise all enquiries and requests should be directed to Peacock Press.
ORIEL LIBRARY
Peacock Press have acquired the music and assets of Oriel Library. We are honoured to have the opportunity to continue the work of Theo, Cathy and Ian.

PROVINCETOWN BOOKSHOP EDITIONS
Peacock Press have purchased all publishing rights. Ruth is particularly pleased as she has very happy memories of music visits, over many years to Dr Joel Newman in Provincetown on Cape Cod. Click here for a full list in pdf.
ALEX AYRE MUSIC
All of the pieces published by Alex Ayre have now been typeset and are available under the code CRCS. They are sold as score and parts; extra parts are available on request. They are now listed on the Recordermail website and a list is available here. Congratulations to Moira Usher and her helpers for bringing this mighty undertaking to fruition.
RECORDER MUSIC DIRECT
Peacock Press now distribute Recorder Music Direct including Hugh Gorton's Recorder Practice series and a number of classical and light works edited for recorder and piano.
CHEAP TRILLS MUSIC
Peacock Press have taken on the distribution of Cheap Trills for England and large parts of the world, printing under licence here in the UK. Music in the Cheap Trills catalogue ranges from Baroque to Modern via folk and Spirituals. The arrangements and editions of Charles Nagel are of the highest quality.

ABRSM RECORDER EXAMS
Click here for the 2018-21 descant and treble
TRINITY RECORDER EXAMS
Click here for 2017-2021 pieces: this syllabus has been extended to the end of 2021.
All pieces can be ordered from Recorder MusicMail
***************
View sample pages of Recorder Magazine online and subscribe at http://peacockmagazines.com
For Recorder MusicMail's online shopping site, click here
Newsletter: if you would like to receive our quarterly e-newsletter with information on new publications and the latest Recorder Magazine, please let us know at recordermail@yahoo.co.uk.

Recorder Music with CD - click here for an archived list.

Recorder Magazine index, 1993-2016: now available in pdf online

Recorder Magazine archive on CD: back issues of Recorder Magazine from the earliest issue of May 1963 up to the end of 1974 are available on CD in searchable pdf format (Acrobat reader 7.08 included), £10, produced by Vince Kelly of Cheap, Choice, Brave and New in Edmonton, Canada or fm Recorder MusicMail. Code CCBN RM01.

Recorder music and CDs for review should be sent to Sue Pemsel: recorder.reviews@gmail.com, or c/o Recorder MusicMail, Scout Bottom Farm, Mytholmroyd, Hebden Bridge, West Yorks, HX7 5JS.
FORTHCOMING RECORDER EVENTS supplied by RMM and JPH

** The 2022 Recorder Summer School **
10-17 August 2022
Bishop Burton College
Nr Beverley, East Yorkshire
http://www.recordersummerschool.org.uk/
************************************************
Peacock Press prices will be increasing gradually over the coming months.
NEW from Peacock Press:

P 701 John Hawkes - Wallingford Suite for 6 SATTBGb, £15.90
The suite was written for the Wallingford recorder group from which came the title. There are five movements: 1. Queen's Arbour 2. Bullcroft 3. Castle Meadows 4. Market Place 5. Night River. Each evocative movement is full of interest in every part and is suitable for good intermediate players and above.
P 704A Canal Suite for recorder quartet by Susan M Francis, SATB, £7.50
There are 4 movements in this charming Suite of pieces. Not too difficult but every part has interest: Sunset on the Water; A Little Rondo from a Goldfinch Stretch; Waltzing in the Water at Welford; The Broken Chair.
P 705 Klezmer Fantasia by Marg Hall for recorder orchestra, TTBBGbGbCbCb and optional Sub-Great bass, £10.50
A very welcome to the repertoire for the lower instruments.
P 706 Three Klezmer-Style Quartets by Marg Hall for SATB, £7.50
Circle Dance, Melancholy Song, Grapevine Dance. Written for an intermediate class in the 2020 SRP Festival.
P 707 Solo Book for the Descant Recorder - Misc. ed. Eric Haas, 1 S (or 1 T), £18.50
130 pages of music from from 13th to 21st Centuries. Plenty to keep people entertained in the lockdown. Spiral-bound to lie flat on the music stand, strong plastic cover for durability and very clear well-set-out print. Tenor recorder could also be appropriate for many of the pieces. Click here and here for contents.

P 708 Hedgehog Stomp and other Quartets by Marg Hall for SATB, £8.50
Hedgehog Stomp, Lockdown Blues, More Monkey Business, Hunky-Dory
P 709 Five Irish Trios for SAT, £6.50
Did you wash your father's shirt, Se Fath Mo Buartha, Drops of Brandy, My Lagan Love, The Hunt
P 710 Sue at the Zoo: five jazzy solos by Marg Hall for solo descant or tenor, £5.50
P 711 Spring Song by John Hawkes for SATB, £8.50
P 712 The Grasshopper's Dance by Ernest Bucalossi arranged by Sue Handscombe for recorder orchestra for Sop.SATBGbCb, £9.50
P 713 Quintet No 5 by John Hawkes for SATTB, £12.50
P 714 Alto Recorder Solo Book - Misc. ed. Eric Haas, 1 A, £18.50
Music from from 13th to 21st Centuries. Plenty to keep people entertained in the lockdown. Spiral-bound to lie flat on the music stand, strong plastic cover for durability and very clear well-set-out print. Click here and here for contents.
P 715A Carols Around the World: 7 duets for alto and tenor recorders arranged by Marg Hall, £4.50
Carol of the Bagpipers (Neapolitan); Rise up Shepherds and foller (American Spiritual); The Cradle (Austrian); La Guignolee (French Canadian); The Cuckoo Carol (Czech); Jezus Malusienki (Polish); Voisin, d'ou venait? (French)
P 715B Carols Around the World: As above for descant and treble, £4.50
P 716A Sea Bass for Two - Five jazzy duets for two great bass recorders by Marg Hall, £4.50
Dogfish Duo, All at Sea, Beachcombing, Plain Sailing, Sailor's Swing
P 716B Sea Bass for Two: As above but for 2 descants or 2 tenors or 2 great basses using treble clef, £4.50
P 717 8 Fantasias for Solo Recorders. For 8 different recorders: Gk.Sno.S.A.T.B.Gb.C. - by Steve Griffiths, £6.85
These pieces were composed to challenge and entertain advanced players.
P 718 Melodies from the Mikado by Arthur Sullivan, arr. Sue Handscombe for 4 SATB, £6.75
Six of the most popular melodies arranged to form a one-movement piece.

P 719 Organ Trio BWV 527 by J S Bach, arr. Susan Francis for 4 ATBB, £10.50
P 720 Branlen & Fagott by Susato arr. Susan Francis for SATBSATB+vn. vl, ch., £8.50
P 721 A Medley of French Nursery Songs - Trad arr. Susan Francis for 5 SAATB

P 722 Bass Recorder Solo Book - ed. Eric Haas, £18.50
130 pages of music from from 13th to 21st Centuries. Spiral-bound to lie flat on the music stand, strong plastic cover for durability and very clear well-set-out print. Click here and here for contents.

P 723 The Great Caravan for big band by Guus Haverkate, SAAAATTTTBBB double bass, £17.50
P 724 four little somethings; 4 quartets for SATB by Marg Hall, £6.75

P 725 Railroad to Sobibor by Guus Haverkate, for 1 T & pno £5.50
Based on the story as told by a survivor of camp Sobibor in Poland.

P 726 Love and Lamentation: six folksongs from around the UK - Trad. arr. Liz Maxwell for 4 SATB £9.50
Six lovely little melodies, nicely arranged and living up to the title.

P 727 Garage Gatherings by John Hawkes for 3 ATB, £6.50
John wrote this piece last summer to play with his friends in the garage according to Covid rules. It has four movements: Allegro, Flowing, Intermezzo & Allegro. A very enjoyable piece.
P 729 Six Bagatelles by John Hawkes for 4 SATB, £7.50
Six contrasting pieces for moderate to advanced players.

P 732 The Dashing White Sergeant and other Scottish dance tunes, arr. Marg Hall for 3 SAT, £6.00`
Orange and Blue, The Cock o' the North, Scotland the Brave.

P 733 Midsummer Meadow Suite by Lyndon Hilling for SoAATTGbCb £14.00
This is a revised edition of the original Polyphonic publication which will still be available on demand.

This concludes Lyndon Hilling's Northamptonshire Trilogy which has taken over 30 years to complete. Lyndon and Peacock Press are delighted that all three volumes are now in print, the other two being The Brington Crystal for recorder orchestra, SoSSAAAATTTBBBBGbCb, £18.00 (P 501) and Tresham Follies for SoSSAATTBBGbCb, £14.00 (P 657). If you wish to purchase all three, they are on offer at £40.00
P 734 Peanuts! by Moises Simons, arr. Jane Minns for SAATTBGbCb, £9.00
There's more than one way to crack a Nut ... The Peanut Vendor (El Mansiero) in a variety of musical guises.

Guus Haverkate:
P 736 Contrails: 13 Concert Duets for 2 AA, £7.50
This collection of duets owes its name to a composition technique that is rarely used in Western class music, namely heterophony: two instruments used a melodic line which is more or less the same, but each with its own rhythm. This results in a very interesting aural experience. There is more explanation in the preface to the music.

P 735 6 Sound Images for AA or AAT or AATB, £11.50
Six of the pieces from Contrails have been developed, so that a treble, tenor or bass can be added.
P 737 7 Sound Images for AA or AAT or AATB £12.75
The remaining seven pieces from Contrails with the same option of making the music into a trio or quartet.

P 738 Midwinter Miniatures by Judith Bush for 4 SATB, £6.00
North Wind, Solstice Song, Yuletide Jig. These three atmospheric miniatures won 1st Prize in the SRP's Composers Competition. Very suitable and enjoyable for any SRP meeting or friends joining together at long last!

P 739 Five Senses by Marg Hall for 6 SAATTB, £11.50
A Sense of Occasion, A Sense of Calm, A Sense of Rhythm, A Sense of Ease, A Sense of Fun. The names say it all! Three of these pieces (1, 2 and 5) as a group were 3rd Prize winners in the SRP's Composers Competition set up by Steve Marshall.

P 740 Two Handel Arias arranged by Sue Handscombe for Solo S, SATB, £6.75
'O Had I Jubal's Lyre' and 'Waft her, angels, through the skies' (both from Joshua). Two very contrasting pieces, one of rejoicing and the other of torment and grief. Both feature a solo descant.

P 741 Fantasia on English Folk Tunes by Susan Francis for 5 SAATB, £6.50
The melodies used in this pleasing through-composed piece are Lavender's Blue, To the Maypole, Bobby Shaftoe, By the Banks of Allan Water and The British Grenadiers.
P 742 Contemplative by Elizabeth Alexander for 4 SATB £4.50
A short lyrical piece in character with its name.
P 744 Four Klezmer Trios by Marg Hall for 3 SAT, £6.50
1. Goldene Khasene (Golden Wedding) 2. Beim Rebens Sideh (At the Rabbi's Feast) 3. Odessa Bulgar (Line dance from Odessa) 4. Freylekhs Tants (Happy Dance)
P 745 Agnus Dei from Missa sexti toni "L'homme arme" by Josquin des Prez, arr. Joanna Brown for 6 SSAATB, £6.50
P 749 Tenor Recorder Solo Book - selected, edited and arranged by Eric Haas, £18.50
Music from from 13th to 21st Centuries. Spiral-bound to lie flat on the music stand, strong plastic cover for durability and very clear well-set-out print. Click here and here for contents. This completes this very comprehensive series for the solo recorder.
P 754 Suite animato by Marg Hall for SATTB, £7.75

P 746 Movements from Judas Maccabaeus by Handel, arr. Susan Francis for 4 SATB £6.50
Come Ever Smiling Liberty, O Lovely Peace, March/See the Conquering Hero

P 747 Bicycle Made for Two by Harry Dacre, arr. Susan Francis for 4 SATB £6.00

P 750 Sinfonia from Il San Alessio by Stefano Landi, arr. Susan Francis for 6 SSATTB £6.50
A substantial and very interesting piece in several sections flowing on from each other without breaks.

P 751 Sonata 1 by Arcangelo Corelli, arr. Susan Francis for 4 SATB £6.50
The original sonata was for two violins & bc. It is in four short movements, enjoyable but eminently playable.

P 752 Garden Snippets by Liz Maxwell, for 4 SATB £12.50
Six simple pieces: Branches in the Wind, April Shower, Roses in the Rain, August Reverie, Sparrow Hop, Autumn of Gold. These pieces are not all as easy as the title would suggest. A lovely stroll around Liz's garden.

P 753 Maggie's Rag by Marg Hall for 4 SATB £5.00
The music is dedicated to one of Marg's cats. The rhythmic interplay between parts is tricky in places. Altogether a lively and fun piece.

P 755 Organ Trio BWV 585 by J S Bach, arr. Susan Frances for 3 ATB £7.50
A substantial piece in two fugal sections. Organ music transcribes very well onto 3 instruments and this piece is no exception. At first sight it looks rather difficult but the suggested speed is quite slow!

P 756 Fugue in G BWV 576 by J S Bach, arr. Susan Frances for 4 SATB £7.50
This piece is from the Organ Book No. 12. There is plenty to work on here, in particular the interplay between the parts which must be seamless.
P 756B J S Bach - Fugue in G BWV576 arranged by Susan M Francis for ATBGb, £7.50
A wonderful piece which transfers very well to recorders.

P 765 Paul Clark - Happy Birthday Variations for SATB, playing score, £4.50
These variations originally published by Sweet Pipes are now back in print.
P 757 Through the Olive Trees - a new selection of carols, arr. Liz Maxwell for 3 SAT £8.50
Tomorrow shall be my dancing day, Coventry Carol, Masters in this Hall, Winds through the Olive Trees, Sans Day Carol, In the bleak midwinter. Well arranged with interest in all parts.
P 760 A Trip Around the British Isles - arranged by Susan M Francis for SATB - £ 11.00
Favourite songs of the British Isles, very nicely arranged. Ash Grove, Phil the Fluter's Ball, Skye Boat Song, My Bonnie, On Ilkley Moor, Oh No John, John Peel.
P 763 Jean Baptiste Loeillet - Recorder Quintet, arranged by Susan M Francis for 4 Trebles & a Bass, £12.00
A wonderful opportunity to play this beautiful chamber music on recorders.
P 764 John Hawkes - Northolme - Recorder Quartet No. 11 for SATB, £9.50
A four-movement piece full of melody and rhythm with the parts often working in twos.
By Nicholas Wynne:
P 758 A Garden of Flowers - 7 Little Pieces for Recorder Quartet - SATB - £ 12.50
A set of little gems. All parts are equally active. Harder side of "moderate".
P 759 Hot and Humid - 7 pieces in a Syncopated Style - SATB - £12.00
Tango-style pieces with tricky bits. All parts are of interest and enjoyable.
P 761 All Souls' Eve - 3 Little Pieces in a Spooky Style - SATB - £ 7.50
Weirdling Waltz, Gavotte Grotesque, Phantastic Carousel. Short pieces of moderate level.
P762 Walkin' the Dog - 6 little Pieces in a Swinging Style - SATB - £12.50
Six character pieces from Dachshund to Hang Dog to Mr Jack Russell.
P 768 Rondeo Quartet for SATB, £12.00
Recorder quartet in four movements: a piece in Nick's quirky style. Some of the pieces look quite straightforward but precise timing is important and not always easy to achieve. The Finale has some very interesting and hair-raising moments, such as the change from B major to G minor in the middle!
P 769 Toy Soldier Serenade - A Play in 2 Acts & an Interlude for 3 Recorders, SAT, £10.75
Toy Soldier Serenade, Quiet Falls the Snow, Dancing Doll: three little character pieces. Very welcome new music for this time of small-group playing.

P 766 Celebration Suite by Marg Hall for SATBGbCb, £7.75
Commissioned for a Golden Wedding Anniversary. Prelude and Waltz, Reflections and Celebration. Moderate difficulty level although there are some interesting time changes in the second movement.

P 767 The Sound of the World by Guus Haverkate, for 4 ATTB, £14.00
This piece is a revised version of Continental Journey for quartet (original is 6-part): North America, Europa, Asia, Arabia, Australia, Antarctica, South America, Africa. Rather a tricky set of pieces but the end result is spectacular. I think the four-part version will work well.
P 770 Picton by Lyndon Hilling for SnoS/SnoSAATTBBGbCb, £12.50
This charming work has three movements, each of which paints a picture: Picton Point, Crafty Woods, Picton Castle. This is a very welcome addition to the recorder orchestra repertoire, not too difficult and very enjoyable.
P 771 Eight Czech Folk Tunes - various, arr. Marg Hall for 4 SATB, £10.50
Eight contrasting pieces you may not know. As always, Marg gives every part something interesting to play.
P 772 Shards of Hope by John Hawkes, for 5 SATTB, £11.75
This is a 5-movement piece. Although it is in the "difficult" category, most moderate players could tackle it, especially with some guidance, and it would be worth the hard work.
P 773 Sacred Music by Bach Vol. 2, arr. Susan Francis for 5 SAATB, £7.50
"Freut euch und Jubiliert" from Magnificat in D and two pieces from "Jesu meine Freude". this music is certainly athletic but very beautiful and well worth looking at.
P 774 Of Times Past by Nicholas Wynne, £5.00 each
Suite of seven gently graded recorder duets available as:
2 SS or 2 TT - P774S/T
2 AA - P774A
2 BB - P 774B
2 GbGb - P 774GB
P 775 Echoes of Times Past by Nicholas Wynne for 3 SAT, £8.95
A suite of six pieces with a flavour of Baroque: Praeludium, Pastorale, Courante, Ground, Gavotte, Tanz. Plenty of interest in every part. Moderate difficulty.
P 809 Conversations - playing score by Alison West and Phil Taylor, for 2 AT, £6.00
Three pieces by each composer. A very welcome addition to the duet repertoire which is rather short on modern duets and those for alto and tenor. Also available for Alto and Bass Viol, P 809A.
P 810 Septet by Stephen Watkins, for S A1 A2 T1 T2 B1 B2 (opt, D2 GbCb), £14.00
Commissioned for the SRP Festival 2022 and very well received. The seven players can expand to ten if your group is large, giving a richer quality. Stephen says of the movements: "They are small reflections on my everyday life." Time to Go, Just Before Dawn, Chasing Butterflies.
P 811 Fantasia on a Joyous Strain by James Risden for solo bass recorder, £5.00
Based on a traditional French Noel from the 18th century. The titles of the sections are taken from the verses of "Angels we have heard on high": Shepherd Pipe, Jubilee, Joyous Strains. The music looks quite tricky but most interesting.

Click here for full Peacock series
The Playford Collection - a brand new Peacock series based on folk melodies

PCP R1 Dances & Divisions by M Barron, for 1 - 3 various, £10.00
Includes solos, duets and trios with various sizes of instruments.

PCP R2 Bittersweet Songs by M Barron, for 2 SA, £8.50
These 30 much-loved tunes with duet parts will give recorder players the opportunity to explore the expressiveness which can be found in the recorder.

PCP R3 Rainbow Recorders by M Barron, for 3 descants, £8.50
30 trios of traditional dance melodies for 3 equal instruments - either descants or tenors. They are mostly Playford dances.

John Turner's Contemporary Recorder Music series
PJT 60 Elgar Tunes by Ian Parrott for 1 A & pno, £5.50

PJT 132 At the Grave of John O'Brien by Robin Walker for two treble recorders and guitar, £8.50

PJT 143. Introduction and Allegro by Michael Nuttall for treble recorder or flute & pno, £5.50

PJT 166. Elegy for Robin by Robert Crawford for solo tenor & organ, £5.00
PJT 177 Canonic Proverbs by Alan Bullard for soprano or tenor voice & B,T,A,S recorders (one player), £4.50
PJT 199 Christopher Cotton - Overture for St Paul's for recorder/flute, oboe and keyboard, £6.00
A most interesting piece of majestic proportions and changing moods.
PJT 200 Nicholas Marshall - The Birds for High voice, recorder & piano, £10.50
The seven pieces are inspired by the poems of famous poets: 1. Proud Songsters - Thomas Hardy; 2. The Birds - Hilaire Belloc; 3. Leda and the Swan - W B Yeats; 4.Boys Then and Now - Thomas Hardy; 5. Snow - Edward Thomas; 6.The Owl - Tennyson; 7. The Swan - James Reeves. The recorder, as might be expected, often takes on the role of the bird.

PJT 201 Elizabeth Poston - Concertino da Camera on a theme of Martin Peerson, for 1 A, oboe or oboe d'amore, viola da gamba and harpsichord, £10.50
A wonderful work by the composer of the well-known carol "Jesus Christ the Apple Tree", who loved both the recorder and early music. The work is in a tuneful neo-Baroque style, and the composer herself thought it one of her very best works.

PJT 202 George Odam - Sonata Ecologica for recorder & piano, £6.50
A concern for the natural world and its ongoing destruction by man inspires this haunting work. The first movement, a prayerful and mystical introduction leading to an athletic leaping dance, is succeeded by a gentle lament for the leafy trees. The virtuosic finale, in which descant and sopranino recorders take over from treble, is a hectic and primitive-sounding dance for birds, in irregular and teasing rhythms.
PJT 203 David Benger - A Bowland Fancy for 1 A & pno £4.50
A gentle evocation for treble recorder and piano of the beautiful Trough of Bowland area in North Lancashire. The music is pastoral and melodic in style, and about Grade 6 standard.
PJT 204 Suite by John Locke for flute and tenor recorder, £6.00
PJT 205 Four Pieces for Four Recorders by John Locke, for 4 SATB, £11.00
Invention, Mainly Phrygian, Fitful March, Travel by Ricercar. These pieces look very playable and enjoyable. Suitable for advanced players and moderate players who enjoy a challenge.
PJT 206 Variations on an American Ditty by John Locke for 4 SATB, £8.00
This piece is on the harder side of moderate but well worth working at. All parts are interesting and make up an enjoyable and well-written addition to the quartet repertoire.

PJT 207 Three Cornish Scenes by William Learne Harris for 1 S,A,T & pno, £7.50
This piece uses S, A and T recorders. 1. The Passing of the Great Bird (A); 2. Madonna of Morgan Woods - Passacaglia (T); 3. Choral Prelude on 'Great Soul' (S). Each of these pieces tells a story (found in the preface to the music). Three quite short evocative pieces to be enjoyed by good to advanced players, written by a co-founder of the Cornish Music Guild.
PJT 208 Picnic by Michael Baron, for S&A & pno £6.00
This piece, marked Allegretto scherzoso, is a one-movement, energetic piece, with plenty of banter between the recorder and the piano: very much an equal partnership. It is half for descant and half for treble.

PJT 209 Her Rapture by Robin Walker for solo descant, £5.00
This significant piece, dedicated to Dorothy Pilling, is a very welcome addition to the solo descant repertoire. There are plenty of indications of mood, style and tempo throughout.
Click here for full series.
NEW in the York Waits Christmas Collection series:
English Christmas, PTYW 105, £6.25
For 2-5 voices and instruments. Medieval and Renaissance Christmas music restored and arranged for instruments and voices.
Andrew Robinson Editions
The Solo Recorder, ed. Andrew Robinson
A beautifully produced two-volume set of solo recorder music to enhance the repertoire of any serious recorder player. It is clearly typeset and well laid out on larger than A4 paper, with strong laminated covers, Canadian bound: a spiral to open flat and a spine to stack neatly. The two volumes, each of 112 pages, represent some of the finest Baroque solo works ever written.
Book 1: Telemann Fantasias for flute, Quantz Pieces sans bass; Solo sonatas by J S and C P E Bach, PAR 108, £20
This core repertoire represents the major baroque works for solo flute, transposed for recorder with choices of transposition. Music you come back to again and again.
Book 2: Telemann Fantasias for violin; Marais Couplets de Folies (Les Folies d'Espagne); Six movements from Bach's solo violin partitas; Twenty-nine movements from Bach's cello suites, PAR 109, £20
Telemann's fantasias for violin are much less well known than his flute fantasiass but have music of the same quality and imagination. Marais' Couplets de Folies are full of ideas, adventure and beauty. Bach's cello suites must be the best music of the gentre, often difficult but supremely satisfying. A lifetime's study - in so few pages.
Click here for full series.
Early Music Series from Peacock Press

PEMS 075 Introduction to Unbarred Book 1 by Moira Usher for SATB, £10.50
PEMS 076 Introduction to Unbarred Book 2 by Moira Usher for SATTB, £12.50
Modern notation but no barlines help to bridge the gap between reading the modern notation and facsimile. Phrasing and expression is enhanced using these editions.
PEMS 077 This is the Day which the Lord hath Made by Samuel Howard (?1710 - 1782): Anthem for soprano, alto and bass soloists, chorus and orchestra, edited by Alan Howard, £27.50
PEMS 078 G P Telemann: Nine Sonatas TWV 40: 141-149 edited by Eric Haas for two trebles, £12.00
These are the sonatas rediscovered and sent back to Berlin in 1999 from Kiev where they were kept during World War II. A new edition - if you have not made their acquaintance, you should try them. They are very good.
PEMS 079 Thalia: A Collection of Six Favourite Songs, composed by Boyce, Arne, Smith, Battishill and Barthlemon with words by David Garrick. Edited by Simon Fleming, £13.50
Written for 2 violins, cello and bc.
PEMS 080 Corelli - Concerto Grosso Op 6 No 2 for SATBGb & opt Cb, £9.00
Another lovely Corelli Concerto Grosso. Lots of contrast and interest in all parts. Energetic but not too hard. The contra is optional but very desirable so if you have one in the group it will add richness to the sound.
Consort Music from the Court of Maximilian I for recorders, viols and other instruments
PEMS 081 Vol. 1, 1-20 for 3, 4 and 5 parts - £20.00
PEMS 082 Vol. 2, 21-40 for 4 and 5 parts - £22.50
PEMS 083 Vol. 3, 41-60 for 3 and 4 parts £22.50
PEMS 084 Vol. 4, 61-86 for 4, 5 and 6 parts £25.00
Edited by viol and recorder player David Hatcher.All four volumes may be purchased for £75.00
Each volume is supplied with a set of parts and extra parts may be purchased separately
This scholarly and beautifully presented music makes a wonderful library of varied secular instrumental music typical of the court of Maximilian and his successor Charles V. Although the manuscript has been available until recently in the Alamire facsimile, errors and anomalies in the part-books mean that a number of the pieces are difficult to perform directly from the original notation. The editor believes that this new edition, published in four volumes, will provide viol and recorder players with a varied collection of secular instrumental music typical of the court of Maximilian and his successor Charles V.

PEMS 085 Introduction to Unbarred - Mass in 3 voices by William Byrd, edited by Moira Usher for ATT, £10.50
This series allows players to read modern notation but, as in the original, to play the music without bar lines. This gives the music its true emphasis and expression. Moira has set the pieces so that everyone starts each line of music at the same time to help rehearsal problems.
PEMS 086 Introduction to Unbarred, Book 3, edited by Moira Usher for ATB, £8.80
A selection of early trios by Agricola, Byrd, Deprez and Brummel.
PEMS 087 Introduction to Unbarred: Fantasia a 6 No.1 by Orlando Gibbons for SSATBB, edited by Moira Usher, £7.00
Playing the piece unbarred gives a new dimension to this intricate music.
PEMS 088 Introduction to Unbarred: Amavi by Michael East for SSATB or AATBGb, edited by Moira Usher, £8.80
A beautiful 5-part Fantasy presented here in two keys for flexibility of orchestration.
PEMS 089 Introduction to Unbarred: Ricercare in C by G.P. da Palestrina, edited by Moira Usher for SATB, £5.00
PEMS 090 Concerto Grosso in F by James Nares edited by Simon Fleming: score and set of parts, £12.00
This piece is for strings. Violin 1 & 2 concertino and cello, violin 1 & 2 Ripieno and BC
The original is bound into volumes primarily containing concertos and overtures by Handel, Geminiani Festing and others.
Some reconstruction was undertaken by Simon Fleming so that a piece which has lain dormant for so many years is once again available.
PEMS 091 Gems of the Spanish Renaissance arranged for recorder trio by Susan Iadone: for 3 instruments using combinations of SATB. Playing score £5.00. Set of 3 £12.00
PEMS 093 Couranten Lustgartlein Vol. 1, 1-15 by Christian Roth, ed. George Simmons & Philip Neuman for 5 SSATB/Cb £18.00
For complete PEMS list, click here
Dolmetsch Library - £7.50 each
PDL 68 Gabrieli - Canzon 5 a 7 for 7 AAATTBGb
PDL 69 Boismortier - Sonata in g min Op.34 No 1 for 4 AA/TTB
PDL 70 Boismortier - Sonata in G maj Op.34 No 2 for 4 ATTB
PDL 71 Boismortier - Sonata in e min Op.34 No 3 for 4 AA/TTGb
PDL 72 Boismortier - Sonata in D maj Op.34 No 4 for 4 ATTB
PDL 73 Boismortier - Sonata in d min Op.34 No 5 for 4 AA/TTGb
PDL 74 Boismortier - Sonata in a min Op.34 No 6 for 4 AA/TGb
PDL 75 Bach - St Anne's Fugue for 5 SATBGb
PDL 76 Lully - Chaconne des Africain for 5 AATBGb
Click here for complete list.
Click here & here for the latest re-set Alex Ayre Editions (CRCS) and here for a complete list

New from Cheap Trills
TR099 Thomas Luis Victoria ed. Charles Nagel: Motets for 4 voices Vol. 1 (ATTB) £7.50
MHE 10122 Hungarian Peasant Songs (Set 1) arranged by Steve Marshall for recorder orchestra, SAATTBGbCb, £12.00
Bartok arranged 15 traditional folk melodies for the piano and later arranged some of them for orchestra which Steve has arranged for recorders.
MHE 10222 Taynton Suite by Ann Marshall for ATB, £8.00
Five varied and interesting movements of moderate difficulty. This is May Hill's 500th publication!
MHE 30222 The Highnam Suite by Ann Marshall for SATBGbCb, £11.00
The four movements are varied and not difficult, lasting about six minutes.
MHE 40222 Four Pieces by O'Carolan, arr. Ann and Steve Marshall for SATB, £9.50
Ann & Steve have chosen three of their favourite harp pieces by O'Carolan for these arrangements.
MHE 20122 Sinfonietta No 3 by Steve Marshall for SATB, £11.00
Steve aimed at writing a symphonic piece that could be tackled by modest players. This piece is the result. The four movements work together somewhat like an early symphony. The group for whom it was written enjoyed it!
MHE 20122a Sinfonietta No 3 by Steve Marshall for SATBGbCb, £13.50
Great Bass and Contrabass have been added to MHE 20122.
More ...
MHE 10422 Llyn Dulyn by Steve Marshall, for SoSATTBGbCbCb & theremin, £16.00
MHE 10522 Revelry by Rosemary Robinson, for SoSSAATTBBGbCb, £24.00
MHE 10622 Water in Motion by Ann Marshall, for TTBGbGbCb, £12.50
MHE 20522 Tota Pulchra Es by Anton Bruckner, arr. Steve Marshall for TBGbCb, £6.00
MHE 30522 Ann's Choice Vol. 15 by Various arr. Ann Marshall for 3 ATB, £8.50
MHE 40522 Two Motets by Juan Gutierrez de Padilla, arr. Steve Marshall for 4 TBGbCb, £8.00
MHE 50522 Brook Green Suite by Gustav Holst, arr. Steve Marshall for SATTBGbCb, £17.50
MHE 60522 Jazz Fugue and Postlude by Steve Marshall, for TBGbCb, £11.00
MHE 70522 November Suite by Ann Marshall, for 2 AT, £10.00
MHE 80522 Recorder Septet No 4 by Ann Marshall, for 7 SAATBGbCb, £15.50
MHE 90522 Spring Sinfonietta by Ann Marshall, for 7 SAATTBB, £14.00
For complete May Hill Editions list, click here
New from Prima la Musica
By Brian Clark:
La Follia for 4 SAAA, PLMBC2103, £7.50
Composer's comment: "Works based on a known sequence of chords are a challenge to any composer, but I hope I have at least succeeded in exploring part of La Follia's mad side."
Tango for 4 STTB, PLMBC2103, £6.00
A fun piece very suitable for an encore.

Waltz for Michelene for SATTB, PLMBC2102, £9.00
New from PRB Music

PRBCC036 Suite on Early Carol Tunes by Peter Seibert for SATB, £12.75
PRBCC094 Suite on Piae Cantiones Carol Tunes by Peter Seibert for SATB, £16.80
From Richard Siegel Publications (arr. Siegel)
RSC 004 Le Coucou by Louis-Claude Daquin, arr. for treble recorder, bass & harpsichord, £5.50
This is an arrangement of the well-known keyboard piece by Daquin for treble recorder, bass and harpsichord. Although the harpsichord takes the biggest role, the overall effect is charming.

RSC 005 Sonata in B flat (IGS 27) by Giuseppe Sammartini, arr. for treble recorder & harpsichord, £5.50
New from Soren Sieg
Cadiz - Suite for Recorder and piano for 1 A/T & pno, £18.30, code SIEGCAD
5 Movements - The Flight of the Seagull, The Wind from the Sea, Alone on the Shore, The Mermaid's Bath, Carnaval of Cadiz
Ukuvalelisa: Ten Miniatures for Recorder Solo, £13.80, code SIEGUKU
An Alto and a Tenor version is included.
Uxolo for 8 players, SoSATTBGbCb, £23.40, code SIEGUXO

Suite Siciliano for Recorder, cello and piano (using alto and tenor recorder) £19.50 - code SIEGSS
Score & 3 parts. 1. Dance with Lumière 2. Silver Linings 3. Running through the fields
The Dervish and the Devil for alto & tenor recorder and percussion, £19.50 - code SIEGDD
A fast-paced concert piece, with the irrepressible energy of the dervish dance. The meter constantly shortens from 4/4 to 6/8, 5/8 up to 2/4, so the piece races towards its climax. Passages in which a solo recorder is accompanied by a cajon alternate with passages in which both play the recorder and stamp their feet.Written for Tom and Jori for their new duo.
New from Nimbus
NMP 1023 Concerto Incantato by Richard Harvey for one player (modern or baroque sopranino, soprano, alto and tenor recorder) & piano, £8.70
DVD from Zen-on
ZD985253 Sound & Soul: The Recorder Collection of Frans Bruggen - DVD, £49.99
The sound and image of 17 historical masterpieces by 17th-18th recorder makers captured on film. Kees Boeke & Walter van Hauwe perform preludes by Jacques Hotteterre le Romain. A film by Daniel Bruggen
New from Greenblatt & Seay
GS 11 Klezmer Fiddle Tunes for Two Alto Recorders, £14.75
Contains 33 tunes and some programme notes.
Bardic Edition
Alan Gibbs:
BDE 207 Harlequinade for 3 SSS (or more), £11.95
BDE 519 Pipes for 3 SSS (or more), £11.95`
BDE 817 Blithe Spirit for solo treble & pno, £6.95
Thomas Pitfield
BDE 768 Tunes from Down Under for 4 SSAA, £10.95
BD 915 Rondo alla tarantella for treble, sopranino & pno, £6.95
BDE 1216 Lyric Waltz for soprano or tenor & pno, £5.95
BDE 974 Notterni by Eric Hudes for 1 A & gtr, £12.95
BDE 1217 5 Descant Duets by Christopher Headington, £5.95
BDE 1158 A Wee Holiday Suite by Ronald Stevenson for solo descant & pno, £5.95
BDE 208 Glimpses of a Garden by Malcolm Hawkins for solo treble or flute & piano, £16.50
BDE 649 Tiger-Tiger by P A Grainger for 5 SSSAT, £5.95
BDE 1215 Beata Viscera arr. Grainger for 3 descant recorders, £3.95

New from Saraband, Australia
SAR 70 Duets for Bass Recorders Vol. 2 £16.00
Music of Lassus, Gibbons, Thomas Morley and Anon. Six Fantasias and three Ricercari.

New from Arcadian, arr. Stan Davis, £6.95

AP 232 Taking a Chance on Love - Duke, Latouche & Fetter - SATB
AP 233 Forty-Second Street - Warren & Dubin - AATB
AP 234 Blues in the Night - Arlen & Mercer - ATTB
AP 235 Chattanooga Choochoo - Harry Warren - AATB
AP 236 Boogie Woogie Bugle Boy - Raye & Prince - ATTB
New from Dovehouse, Canada
BCMS 3 - Charles Dollé - Six Sonatas Op 1 Nos 5 & 6 for 2 trebles & bc, £20.00
Early intermediate.
BCMS 21 Marin Marais, ed. Beecher, cont. realisation Mageau - La Sonnerie de Sainte-Genevieve du Mont de Paris for treble recorder, bass viol/cello & bc £14.40
BCMS 22 G P Telemann,ed. Kinney & Beecher - Sonata a 3 for treble recorder, viola da gamba & bc £20.80
New from Loux.
LMP 132 Canonesque for Two C Recorders by James Oppenheimer, £6.80
A lively piece in the style of a jig.
LMP 195 A Night in Barcelona by Joseph Loux for recorder quintet, SAATB, £12.00
A leisurely Tango to blow away the epidemic blues.
LMP 201 Ferrabosco II - Pavan for 5 SATTB, £6.00
LMP 222 Godfrey Finger - Divisions on Two Grounds for Treble recorder and continuo, £8.50
The continuo is given the Ground with suggested chords. The player can elaborate at will. There are two copies the melody with the ground so that the accompanist can follow what the  soloist is doing.
LMP 223 St Paul's Steeple from The Division Flute part 1 (1706): anonymous variations upon a ground for 1 A & continuo, £7.90
The continuo is given the Ground with suggested chords. The player can elaborate at will. There are two copies the melody with the ground so that the accompanist can follow what the soloist is doing.
LMP 79 Encino, Paix, Corteccia arr. Loux - Three Hits of the Renaissance for 4 SATB & percussion, £6.50
LMP 228 The Accelerator by Joseph Loux for 5 recorders, SAATB, £11.50.
This is an encore piece; as the tempo revs up, it is bright, cheerful and fast.
LCC33 What Strangers are These? for SoSATB or Voice + pno/organ, £12.50
Old Irish song of the Nativity.
LMP 217 'Sonata in Little G for ABC' by Glen Shannon for SATB & bc, £28.00
The ABC referred to is the dedication 'for the Adirondack Baroque Consort on the occasion of their 55th Anniversary'. This four movement, substantial work is a Baroque-inspired piece, though not entirely free of 20th century influence in both rhythm and harmony. "Little g" refers to to its key, that of g minor.
Joseph A Loux Jr:
LMP 165 Sir Roger de Coverley Suite (score & parts) for 5 SAA(T)TB, £21.00
LMP 227 Tango Tambien (score & parts) for 5 SATTB & opt percussion, £15.00
LMP 229 De Gospel Train for 4 SATB & opt. whistle, £11.95
LMP 196 Sacred Song Sampler by William Billings, (1746-1800) for SATB, £11.00

Recorder Music Direct
Hugh Gorton's Recorder Practice Books
RMD 556 Waltz No.2 from Jazz Suite No.2 by Shostakovich, S/AAATB, £8.00
RMD 502 Elizabethan Serenade by Ronald Binge for SAATB, £8.00
RMD 115 Sicilienne from Peleas and Melisande by Gabrel Faure for S + piano, £6.00
RMD 413 Stabat Mater Dolorosa by Giovanni Pergolesi for SATB, £5.00
RMD 559 When the Red, Red Robin by Harry Woods for SAATB, & optional piano, £8.00
Hugh Gorton has tried to bring out the big band element of close harmony, 4-note chords and jazzy rhythms
RMD 617 J S Bach - Motet no. 1 Singet Dem Herrn ein Neues Lied for SATB/SATB, £10
RMD 621 J S Bach arr. Hugh Gorton - Motet no 7 "Ich Lasse dich nicht, du segnest mich denn" (Motet of doubtful authenticity) for two choir SATB/SATB, £10.00
RMD 622 J S Bach arr. Hugh Gorton - Motet no. 8  "Jauchzet dem Herrn, alle Welt" (Motet of doubtful authenticity) for two choir SATB/SATB, £10.00
RMD 623 J S Bach arr. Hugh Gorton - Motet no. 9 "O Jesu Christ, Mein's Lebens Licht" for 10 players SATB/SA/SATB, £10.00

RMD 417 J S Bach arr. Hugh Gorton - Motet no. 10 "Sei Lob und Preis mit Ehren" for SATB, £10.00
RMD 418 Johann Ernst Bach arr. Hugh Gorton - Motet 11 "Unser Wandel ist im Himmel" for SATB, £10.00
RMD 508 Nun Danket alle Gott by Johann Christoph Altnickol for SSATB, £10.00
The composer was a close colleague and family friend of J S Bach. This Allegro and Chorale have interesting parts and are of moderate difficulty.
RMD 129 Six Treble Solos - Misc. arr. Hugh Gorton for 1 A & pno £7.00
Celtic Dances for all C instruments: Trad. arr. Hugh Gorton
for solo descant or tenor recorder, garklein, oboe, violin or C clarinet
RMD 028 Celtic Dances for all C instruments, Book 1: Reels: Over 300 Scotch and Irish reels. Click here for sample titles. (£15.00)
RMD 029 Celtic Dances for all C instruments, Book 2: Jigs (£18.00)
RMD 030 Celtic Airs and Dances for all C instruments, Book 3: Hornpipes, Clog Dances, etc. Click here for sample titles. (£15.00)
RMD 031 Celtic Dances for all C instruments, Book 4: Strathspeys, Highland Airs, Polkas, etc. (£18.00)
For the complete RMD series click here.
From Ut Orpheus
HS 302 Danseries: Progressive Anthology of Dances from the French Renaissance, Vol. 1, ed. Nicola Sansome for 1 S (opt. A/T) & keyboard, £25.50
HS 303 Danseries: Progressive Anthology of Dances from the French Renaissance, Vol. 2, ed. Nicola Sansome for 1 S (opt. A/T) & keyboard, £25.50

From Girolamo
"Bingham Reloaded"
Franz Muller-Busch presents the results of three years' work on George Bingham's Airs Anglois, produced 1702-1705. This collection of dance movements combined into suites, complemented by chaconnes, grounds and two sonatas, was a valuable source of original music for recorders for all recorder players at the time of its publication, and has remained so until the present day. The collection contains compositions by Bingham himself, Gottfried Finger, Henry and Daniel Purcell, Jacques Paisible, William Williams and many more.
G 12045 English Airs Vol. 1 for 1 A (1-20), 2 AA (21-30) & 1 A & bc (31-50), £17.00
G 12046 English Airs Vol. 2 for 1 A & bc (2 AA - 41 & 42), £19.80
G 12047 English Airs Vol. 3 for 1 A & bc , £17.00
G 12048 English Airs Vol. 4 for 1 A & bc, £17.00
G 12.037 Rainer Lischka: In a Good Mood for two trebles, £13.50
G 12.038 Rainer Lischka: The Pleasure of Dancing for three recorders (various), £14.40
G 21.007 Rainer Lischka - In a Groovy Mood for 1 S & pno, £16.00

G12.040 Giuseppe Sammartini - Noch 3 Sonaten (Ms. Parma 2, 6, 14) for 1 A & b. c., ed. Laura Dalla Libera, bc realization Yo Hirano.
Three more sonatas for recorder from the Parma manuscript. The Sonata Parma no. 2 in F Major is one of its few four-movement sonatas. £24.50
Tommaso Albinoni - 12 Sonatas for AAT, bass recorder ad lib. & b. c., ed. Peter Thalheimer.
Sonatas 1-4: G12.039, £28.00
Sonatas 5-8: G12.043, £28.00
Albinoni's 12 sonatas or balletti for two violins, viola and b. c. were composed before 1728. By 1740 they had been adapted by an unknown arranger for three recorders and bass instrument by transposing them upwards, some by a minor third, some by a fourth. This edition adds the original basso continuo part with the original figures, which offers several and colourful combination of instruments for performance.
G12.041 Gioachino Rossini - Opera Melodies, arr. for 2 flageolets (SS) by C. Eugene Roy, ed. Franz Muller-Busch. £17.50
Rossini's melodies from The Barber of Seville, Othello, The Thieving Magpie, etc.: great Italian opera worth discovering: here in arrangements for two flageolets published in Paris ca. 1819.
New from Montem
Beethoven arr. Challinger - Variations on 'La ci darem la mano' from Mozart's Don Giovanni for AAB, MONTEM 145 , £7.50

By Andrew Challinger:
MON 165 Three Autumn Pieces by Andrew Challinger for SA, £6.00
MON 166 J S Bach - Eight Canons from Goldberg Variations arr. Challinger for 3 SAT, £7.20
MON 167 Three Winter Pieces by Andrew Challinger for AB, £6.00

New from Moeck

EM 3357 Singing Wind by Sylvia Rosin for recorder orchestra & triangle, SAATTBGbCb, £17.00
Some divisi in S A & B and some improvisation (wind noises) in A2 and T2
EM 3358 Two Baroque Arias: Bach - Sheep may Safely Graze and Purcell - Dido's Lament, £22.60
Bach - A1 and A2 solo parts, A+T, B,Gb,Cb Tutti parts.
Purcell - S.A.T.T.B.B.Gb.Cb.
New from Forsyth
FORFHP07 Peter Hope: The Edgeley Tram, for solo treble & pno, £6.95
This short piece, written for the 50th anniversary of the Stockport Recorder College, is an affectionate memory of the double-decker trams in the 1930s and '40s.

FORFHP05 Peter Hope: Recorder Sonata for solo A, T & S recorders & pno, £9.95
Using descant, treble and tenor recorders. Three movements: Fantasia, Threnody and Moto Perpetuo.

FORFCG08 Gordon Crosse: Three Twitchings for one recorder & pno, £6.95
Three movements entitled Once Bittern for bass; Sighin' and A-Sobbin' for treble; and Orkney Parity for descant. A loving tribute to birdlife by avid 'twitcher' and leading British composer Gordon Crosse, for the intermediate to advanced recorder player.
FORFBM04 Martin Bussey: Divertimento for solo A & S & pno, £7.95
This uses both treble and descant instruments. Three Movements 1. Quasi Fantasia, 2 Scherzetto (Ciphers), 3, Hornpipe (The Knotted Sailor). In the Hornpipe, the nifty performers have to negotiate frequent and teasing changes of rhythm at speed.
FORFED003 David Ellis: Fantaisie Epigrammatique for solo treble, tenor, sopranino & harpsichord or piano, £7.95

FORFPJ01 Jim Parker: South American Journey for solo recorder & harpsichord or piano, £9.95
Five movements using treble, descant, tenor and bass instruments. Tango Cinco, Pueblo Tranquilo, Volando, La Cometa, Rapido. Jim Parker's TV, film and theatre scores are much loved, with credits including Foyle's War, House of Cards, Midsomer Murders and House of Elliott. He has won the British Academy Award for Best TV Music on no less than four occasions.
New from Orpheus, Australia
Lance Eccles:
OMP 303 Three Little Tardigrades for 4 ATTB £14.00
OMP 305 Boats on the Lake for 3 ATB £14.00
OMP 306 Winter in the Forest for 3 ATB £13.80
OMP 307 Beneath the Sea for 4 SATB £13.80
OMP 310 Gregorian Fantasy: Rorate Caeli (Rain Down Dew O Heavens) for 5 SATTB £13.80
OMP 311 Six Melodies from Der Fluyten Lusthof for 2 AT £13.80
OMP 313 Wetlands for 2 AT £16.50
OMP 314 In the Eucalyptus Forest for 2 AT £14.80
Benjamin Thorn:
OMP 304 Birds for C for 2 AT £11.00
OMP 308 Travellers for 3 SAB £16.50
OMP 309 Dancing with a Cabbage for 3 SAT & harp (or harpsichord or piano) £14.80
OMP 312 Ros Bandt: Frangipani Walk and Back to Ubud for recorder in F (1 A) £11.00
OMP 315 David Hamilton: Whirligig for 4 ATBGb £17.50
(Winner of the Orpheus Music Composition Competition 2020)
OMP 316 Marty Pervan: Hindsight for 4 SATB £17.50
OMP 317 Fiona Loader: Rose Garden Suite for 4 SATB £13.80
OMP 318 Kym Dillon: Sketches of White Wings for 4 A/S A/S A/B A.Gb £17.50
OMP 319 Katia Geha: Imploding Mango for 4 SATB £14.50
OMP 320 Chris Adams: Fugue & Dance: MMXX for 4 SATB £27.00
From Flautando
J S Bach:
FEM318 Bach for Zwischendurch - 3 AAB, £16.90
FEB021 Fuga II BWV 891 for SATB, £7.80

Lance Eccles:
FEA180 Apocalypse 1: Rumour for 5 SATTB, £9.50
FEM323 5 Hungarian Folksongs for SATTB, £12.75
1. If I go up Buda Hill, 2. Into the town of Sany, 3. In Nagyabony Village, 4. Forest, O forest, 5. Around the vineyard.
Fulvio Caldini:
FEA018 In Ascolto - Marginalia No. 103 for 4 ATTB, £12.75
FEA040 Clockwork Toccata op. 68/C for 4 AATB £13.80
FEA046 Sonatina in Quartetto Op. 65F for 4 SnoSSA, SnoSTB, SoSAA £18.00
FEA047 Due Bagatelle Op.60/C for 3 SA/TGb, SAT £13.00
From Instant Harmony
IH 26 - 49 Preludes, Fantaisies, and Caprices for solo treble, collected by Charles Babel, ed. David Lasocki, £21.00
Never published before, not even in the Baroque period! An excellent and fun collection of Baroque pieces: fine practice material, also useful as models for writing or improvising your own preludes, fantaisies, and caprices. The manuscript is preserved in the British Library in London.
Not Just the Alto by David Lasocki, £18.50 (NJAL)
Sizes and Types of Recorder in the Baroque and Classical Periods. A new view of recorder history, recognising that between 1600 and 1800 many sizes of recorder were employed in a rich and broad repertoire of instrumental and vocal music.
From Edition Tre Fontane
ETF 2050 Agnes Dorwarth - Articulator X for treble recorder solo, £9.50
This has some modern experimental techniques.
ETF 3131 Isaac Makhdoomi - Catching Moments for treble recorder solo, £8.75
Some modern techniques including multiphonics.
ETF 3102 Alan Davis - Merely Players for SAT, £12.00
Based on the speech 'All the Worlds a Stage'; e.g. 'The Nurse's Arms', 'Unwillingly to School'. This is suitable for moderate players onwards.
ETF 3079 Farzia Fallah: Besorgnis der Sperlinge for 1 S & electronic, £15.65
ETF 3112 Orlando de Lasso: 3 geistliche Motetten for 4 SATB, £16.55
ETF 3129 Martin Heuser: Sunrise on Pluto (with CD) for recorder orchestra, TTTTTBBBBBBBBBGbSb, £22.00
ETF 3139 Agnes Dorwarth: Kummerkasten & Trostspender for 1 descant or tenor recorder, £11.50
ETF 2196 Three Brazilian Scenes by Dimitri Cervo for descant recorder and keyboard, £15.50
The first movement depicts a delightful melody over syncopated Brazilian rhythms. The second is slower and uses tradition rhythms from the north east of Brazil and the third movement is a freely invented toccata which, with its irregular metric and thrilling melodies, concedes the piece brilliantly.
ETF 3122 Metamorphoses of the Snow-white Bird by Paul Van Hoof for SATB, £15.50
A Fantasy on a Dutch folk song. "There was a little Snow-white Bird". The song tells the story of a young man who wants to send his beloved a letter and who asks a little bird to be his messenger. The piece has 5 movements.
ETF 3145 Spring Music by Bjorn Hagvall for SATB, £11.50
Moderate level with cuckoos and other bird song!
ETF 2083 Isosceles by Alan Davis for 3 SAT, £14.00
Written for a group including twins which suggested the proportions of an isosceles triangle. This provided the inspiration for various aspects including structure, texture and some harmonic and rhythmic content.
ETF 3080 Lullaby by Edvard Grieg, arranged for recorder and guitar by Michala Petri and Lars Hannibal, £18.00
Elves' Dance (descant), Lullaby (tenor), Cattle Call (tenor), Stumping Dance (Sopranino), Leaping Dance 1 (descant), Leaping Dance 2 (descant).

From Jolly Robin
JRMM 001 The Charlton Method: A Manual for the Advenced Recorder Player by Andrew Charlton
This amazing book has been reprinted. 180 pages of information and music. The Contents listing takes up two whole pages! Andrew covers every aspect of technique and provides a wealth of music to put those techniques into practice. There are studies and duos from J S Bach, Characteristic Etudes - 22 extended pieces for various recorders and 15 duos by composers from over three centuries.
This volume is very good value for money at £26.00
New from Peters
Light Dance by Jonathan Dove for SnoSAATBGbCb
P 72408 score, £4.95
P 72408 set of parts, £14.95
The piece was commissioned by the SRP to celebrate the Society's 75th birthday.
New from Con Moto
CMT7706 Theo and Edward Richens: Recorder Rocks for solo descant and piano, £9.95
Fun pieces for the intermediate player.
New from Schott
ED 23043 Easy Concert Pieces 1: 30 pieces from 5 centuries, with CD, for 1 S & pno, Misc/ ed. Kretschmann, £14.99
30 easy pieces by composers from Renaissance to the present day. The pieces are short and range from bottom c to e an octave and 2 above using b flat and f sharp. Some have a smaller range. The CD provides a version with recorder and accompaniment and also the accompaniment on its own.

ED 23044 Easy Concert Pieces 2, with CD, for 1 S & pno, Misc/ ed. Kretschmann, £15.99
24 pieces from five centuries with slightly extended range and more complex rhythms and melodic expression. There are some quite challenging pieces such as the Greensleeves Variations. The CD provides a version with recorder and accompaniment and also the accompaniment on its own.
ED 23162 Easy Concert Pieces 3, with CD, for 1 S & pno, Misc/ ed. Kretschmann, £15.99
21 pieces from five centuries using the full range of notes and longer pieces allowing for more detailed musical phrasing and scope for interpretation and expression. The CD provides a version with recorder and accompaniment and also the accompaniment on its own.
ED 23243 New Klezmer Tunes by Joachim Johow, for 1 A & pno, £16.99
16 pieces for treble recorder and piano. Audio files are downloadable.
SE 1056 Susato Tilman, arr. Dieterich & Hintermeier - 12 Easy Dances (Schott student edition) for 1 S & pno, £10.99
12 easy dances from Danserye, all within the range d' to e" with semitones f sharp' and b flat'
ED 22946 Renaissance Recorder Anthology No. 4 with CD ed Bennetts & Bowman for 1 A & pno, £16.99
The fourth and final volume with standard Renaissance works and lesser-known ones. Intermediate to advanced level.
New from Edition Walhall
EW 1106 Henry Purcell - Chaconne - Three parts upon a Ground for 3 Altos & BC, £13.00
EW 1129 Richard Strauss ed. Thalheimer - Fantasy /Theme of Giovanni Paisiello for 1 S, bassoon and guitar (or piano) £12.50
EW 1055 J C Pepusch - Triosonata in A minor for 2 AA & bc £11.75
Previously attributed to Telemann.
Handel's Sonatas for Recorder, arr. arr Linakis & Schneider
EW 903 Vol. 1 - HWV 360, 378, 378r for 1 A & bc, £22.30
EW 1089 Vol. 2 - HWV 365, 358, 358r for 1 A & bc £24.30
The first two in a new 4-volume complete edition which realises the basso continuo in the light of current knowledge about the art of bc accompaniment in Handel's time.
EW 1099 G F Handel, arr. Schneider & Linakis - The Sonatas for Recorder, Volume IV, HWV 369: F major, 1.11; HWV 377, B major, for 1 S & bc, £20.50
The final volume in this new 4-volume complete edition.

EW 1152 Georg Philipp Telemann: Concerto a tre in C major for 1 A/oboe (violin) & bc, £14.80
EW 1146 Flauto e Voce 17 - arr by K Hofmann and P Thalheimer for soprano or tenor voice, recorder & bc, £23.50
Works by Badia, Campra, Dubourg, Fischietti, Keiser, Scarlatti and Telemann.
And more new Walhalls:
EW 1170 ?J S Bach - Sonata in A minor BWV 1020 for 2 AA, £14.90
EW 1168 Johann Gottlieb Janitsch - Trio in C major for solo treble, violin/oboe & bc, £16.50
EW 1020 Rainer Lischka - Tanzteufel (Dance Devil) for solo descant & pno, £14.90
EW 1143 G P da Palestrina - Zwei Diminutionen fur Sopran & Bass for solo descant & organ/harpsichord, £13.40
EW 1134 Marco Uccellini - Aria sopra La Bergamasca for solo descant & organ/harpsichord, £12.80
EW 1019 J S Bach - Exercitium BWV 598 for solo treble, £10.00
EW 1015 Johann Ernst Galliard - How sweet the warbling linnet sings for Mezzosoprano voice, solo descant recorder, Violin, Viola, Bc, £17.80
EW 1053 Misc. arr. Thalheimer - Flauto e Voce 14 for Sop or tenor voc, 2-3 recorders, bc, £22.35
SBG09 Merula & Barlasca ed. Rudolph Rasch - 'T Uitnement Kabinet IX for 2 SS or AA or AT & bc, £21.00
SBG10 Misc. Dutch composers ed. Rudolph Rasch - 'T Uitnement Kabinet X for 2 recorders & bc e.g. AT & bc, £20.25
"Beautifully produced sets of Renaissance pieces ... fit to be performed on a variety of instruments." (Recorder Magazine)

New from Universal
UE 31482 Ensemble Dreiklang Berlin Recorder - Trios a la Carte: Irish Tunes for 3 SAB, £13.50
UE38077 Misc. arr. Beutler and Rosin : Lieblingsduette for SA or ST, £15.99
UE38101 Misc. arr. Beutler and Rosin : Lieblingsduette for TB or SB, £15.99
Duets from the 16th to 19th centuries.
UE 38022 World Music: Celtic arr Martin Tourish for solo S, A or T with piano, £14.85
A collection from the Celtic tradition. The accompanying CD includes traditional Celtic instrument sounds.

Fantasias by John Coprario (1575 - 1626) for Viols adapted for Recorders
ECR 01 Six Two Part Fantasias, £7.50
This edition is an arrangement for recorders of Coprario's six part fantasias that he may have composed for his tuition of William Lawes. Four have been arranged for either descant & treble or tenor and bass and two are for treble and tenor. Two playing scores + bass clef part are included.
ECR 02 Five Four Part Fantasias, £8.50
Arranged for SATB Coprario was employed by the courts of James I and Charles I and had the reputation of being one of the leading instrumental composers. His works enjoyed considerable popularity in the early to mid-17th century.
ECR 03 Five Consort Songs by William Byrd, £9.50
William Byrd composed over 100 consort songs, both sacred and secular. Although viols would have been a common choice for the instrumental accompaniment, recorders are also well suited. The five songs in this edition have been taken from a manuscript in the British Library and have been selected so that the top line can either be sung or played on a descant recorder:
My mistress had a little dog; O Lord, how vain; In angel's weed; Out of the orient crystal skies; Ye Sacred Muses
ECR 04 Six Three Part Fantasias, £9.50
A lovely clear edition of these wonderful pieces. All the parts you need in the appropriate clefs to play these fantasias on S.A.B or T.B.Gb (Gb in treble and bass clef)
About Fretwork Editions
This purpose of this series is to make available to recorder players some of the finest English consort music of the late 16th and early 17th centuries. Fretwork Editions has been publishing large bodies of this repertoire for viol players in authoritative editions since 1990, and now has a substantial catalogue of music by the greatest composers of the period: Byrd, Dowland, Coprario, Gibbons, Lupo, Jenkins and William Lawes. In our new series of recorder consort music we aim to select pieces from several of our published collections, having regard to range and key, and produce new editions suited to recorder consort with appropriate clefs and, where necessary, alternative parts for high and low consort. The first publications in this series are of consort music by John Coprario in 2, 3 and 4 parts, and of consort songs by William Byrd for voice and 4-part consort.
This is all great music, and recorder players deserve to enjoy it as much as viol players, so don't miss out - there is much more where this came from! - William Hunt
LATEST RECORDER MAGAZINE
Summer 2022, Vol. 42, No. 2

Contents include:

Galina Grigorjeva's Lament recorded by Michala Petri


You should be playing the flute!!

Continuo Foundation Awards

Dentsivka: A Ukrainian Recorder

Recorder v Ukulele

Recorder modifications for disabilities

ERTA

Centrespread: Bach's A minor Violin Concerto 1st movement arranged by James H Young

SRP news from the branches

Christopher Ball remembered

Robin Haigh's Aesop 2, Jonathan Dove's Pied Piper, Daniel Scott

News & reviews
Annual subscription £30.00,

single copy £6.50

Click here for link to index of past issues
****************
Click here for Jacks Pipes and Hammers
for early music enthusiasts, including facsimile scores
Suppliers of sheet music for Early Musicians. Catalogues for flute, Grancino Editions, Green Man Press, Keyboard, Trio Sonata, viol and larger chamber music
Last upate 14/7/2022